Home / Central Coast Regional Resource Kit
Purpose:
Reducing the risk of large, high intensity fire (and other mega-disturbances) through forest treatments has become a management imperative in California. A Strategy for Shared Stewardship (2018) and the USFS Wildfire Crisis Implementation Plan (2022) reinforce specific goals for pace and scale of strategic forest treatments over the next decade. Concurrently, the State of California has issued a new Wildfire and Forest Resilience Action Plan (2022), designed to strategically accelerate efforts to restore the health and resilience of California forests through a joint State of California - Forest Service framework to improve and enhance forest stewardship in California. The social incentives and the scientific knowledge to pursue meaningful restoration of forested landscapes in California are firmly established.
High quality geospatial data are an essential ingredient to address restoration/conservation of the broad suite of core socio-ecological values across landscapes, and to drive analytic tools for planning management investments. To support these initiatives an interagency team of scientists from the Forest Service/Pacific Southwest Research Station, California Natural Resources Agency/CALFIRE, and the University of California at Berkeley and University of California at Irvine collaborated on development of a comprehensive set of mapped data layers needed to accomplish large-scale landscape planning and restoration. Landscape level assessment using high quality data developed from ecological modeling techniques, informative analytical approaches and the resulting credible scientific outputs will be fundamental to inform and support large landscape restoration planning and execution.
The data layers included in this kit are meant to assist land managers in assessing their current landscape and plan for treatments to enhance resilience to human and natural disturbances. Thus each layer represents what the interagency team believes are the most relevant and reliable geospatial data available at this time. Each layer has been examined by the team and is supported by published data and/or was developed using standard methods. The methods for developing each layer are documented in the metric dictionary; however, the accuracy of each layer has not been quantified. It is anticipated that all data layers will be updated and refined as methods and source data evolve and improve.
Data Availability: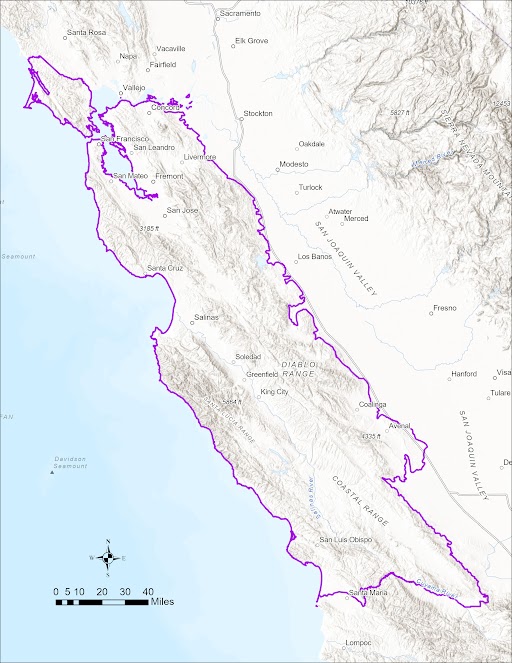 The Regional Resource Kit has adopted the "Framework for Resilience" to provide a structure for assessing landscape conditions, setting objectives, designing projects, and measuring progress towards social-ecological resilience. There are ten pillars that represent the desired outcomes of landscape resilience. Each of the pillars provide a series of metrics (the data layers) for assessing landscape conditions and verifying that actions meet resilience objectives.
Metrics describe the characteristics of elements in quantitative or qualitative terms. Users can use metrics to assess, plan for, measure, and monitor progress towards desired outcomes and greater resilience.
Data Access:
A total of 61 metrics are now available for download. Most data layers are available at 30 m resolution (i.e. pixels are 30 meters on a side), some are available at the resolution of the original data set (e.g. the climate refugia data are 270 meter pixel resolution).
Each data layer is available for viewing via downloading an image and the full data can also be downloaded as a zip file. In addition, the metadata are available for download. Links for all are located immediately adjacent to the listing of the data layer below under each of the ten pillars.
Use Constraints:
These data were collected from multiple sources, some which have specified use constraints. All data developed by the U.S. Government can be used without additional permissions or fees. Data developed by other sources may have other constraints. Please check each metric and their source to determine if any additional disclaimers exist. A full list of disclaimers by organization is available at the end of this webpage.
Appropriate use includes regional assessments of vegetation cover, land cover, or land use change trends, total extent of vegetation cover, land cover, or land use change, and aggregated summaries of vegetation cover, land cover, or land use change. Further use includes applying these data to assess management opportunities for treatments to restore landscape resilience using GIS software and specialized Decision Support Tools.
There are use disclaimers and restrictions for specific data layers. Please review the information below under "Data Credit and Disclaimers" at the bottom of this page and consult any specifics for each metric when downloading data.
Data Products:
The metrics are organized by the 10 pillars of resilience in the Framework for Resilience. Each pillar represents a resource outcome associated with resilient forest landscapes. There are 61 metrics within the resource kit that span the 10 pillars. The Metrics describe the characteristics of the elements (key characteristics) of each pillar in quantitative or, in a few cases, qualitative terms. Metrics are used to assess, plan for, measure, and monitor progress toward desired outcomes and greater resilience. Metrics are selected to be informative, meaningful, and actionable to meet the needs of management.
The metrics are also divided into three "tiers." Among all these metrics, some are created and relevant statewide. Other metrics are more suited to conditions within a given region. The "Tiers" for metrics included in each RRK:
Tier 1 - metrics that are a single, consistent data layer, developed statewide; they can also be clipped to the boundary of the region so values within that region are the only ones included for calculations or regional statistics. Example: Annual Burn Probability.
Tier 2 - metrics relevant to a single region or relevant to multiple Regions but data layers differ among Regions because of varied data availability (sources) across Regions. Example: California gnatcatcher habitat suitability.
Tier 3 - metrics are those that would be of interest to some land managers for specific applications but not included as a core metric in an RRK. Example: Distribution of the Quino checkerspot butterfly.
Each RRK will contain all Tier 1 and Tier 2 data together to comprise the kit. Tier 3 data will be pointed to for reference and use, as needed.
Within each Tier, the data layers are available in two forms: 1) data values native to the metric (raw), and 2) translated data values. The raw data values are in the units of the metric, so for example the species richness map will show an estimated number of terrestrial vertebrate species per acre that can range from 0 to any number for each 30-m pixel, and the departure from historical fire return interval (FRID) map will have values that range from -100% to +100% departure. The translated data values represent each metric using a common unit of measure with the same range of values from -1 to +1 that represent values that are generally considered favorable (+1) and unfavorable (-1). In the case of species richness, higher species counts are considered more favorable and lower species counts are considered less favorable. In the case of FRID, values within the historical fire return interval are considered favorable, and high departure from the historical fire return interval is considered less favorable. In both cases, more and less favorable conditions for each metric are represented by values that range from +1 to -1 (respectively) so that multiple metrics can be evaluated together, including summarizing overall conditions at element and pillar levels to characterize socio-ecological resilience.
Some data layers within this kit contain null values. We point this out here so users of the data will be aware and take whatever measures appropriate as they use and analyze the data. For some raster datasets in the RRK, areas have been masked (blanked) out and have a cell value of NoData (also referred to as null, NaN or missing). We, as producers and users of the data, cannot ignore NoData or fill them with zeros, since zero is often a valid value for some datasets. Removing NoData cells is not an option, a raster is a continuous grid. For users of the data performing further analyses and combining or "stacking" rasters, these NoData cells will mask out all values in that location in the output. To avoid this issue, the user must create values for the cells before combining them (i.e. 999 or any numeric value that is not real and clearly out of the range of the other values). Reasons for masking (blanking) out cells in RRK data:
Cells are lakes or reservoirs
Cells are urban or agriculture
Cells contain no information relevant to the dataset (i.e. streams, habitat)
Area (cells) subject to fire or other disturbance but the post disturbance condition or value is unknown
The metrics (by Pillar) included are listed below in red. After each metric the source of the data is listed followed by a link to download a map of the data and to download the spatial data.